oversized abstract paintings for sale
We all have passions and talents. A big passion of mine is creating oversized abstract paintings by the composing of colors and shapes.

Take a look around my website and find out more about my contemporary artworks (and the artist).
I hope you'll enjoy the hugh exhibition ...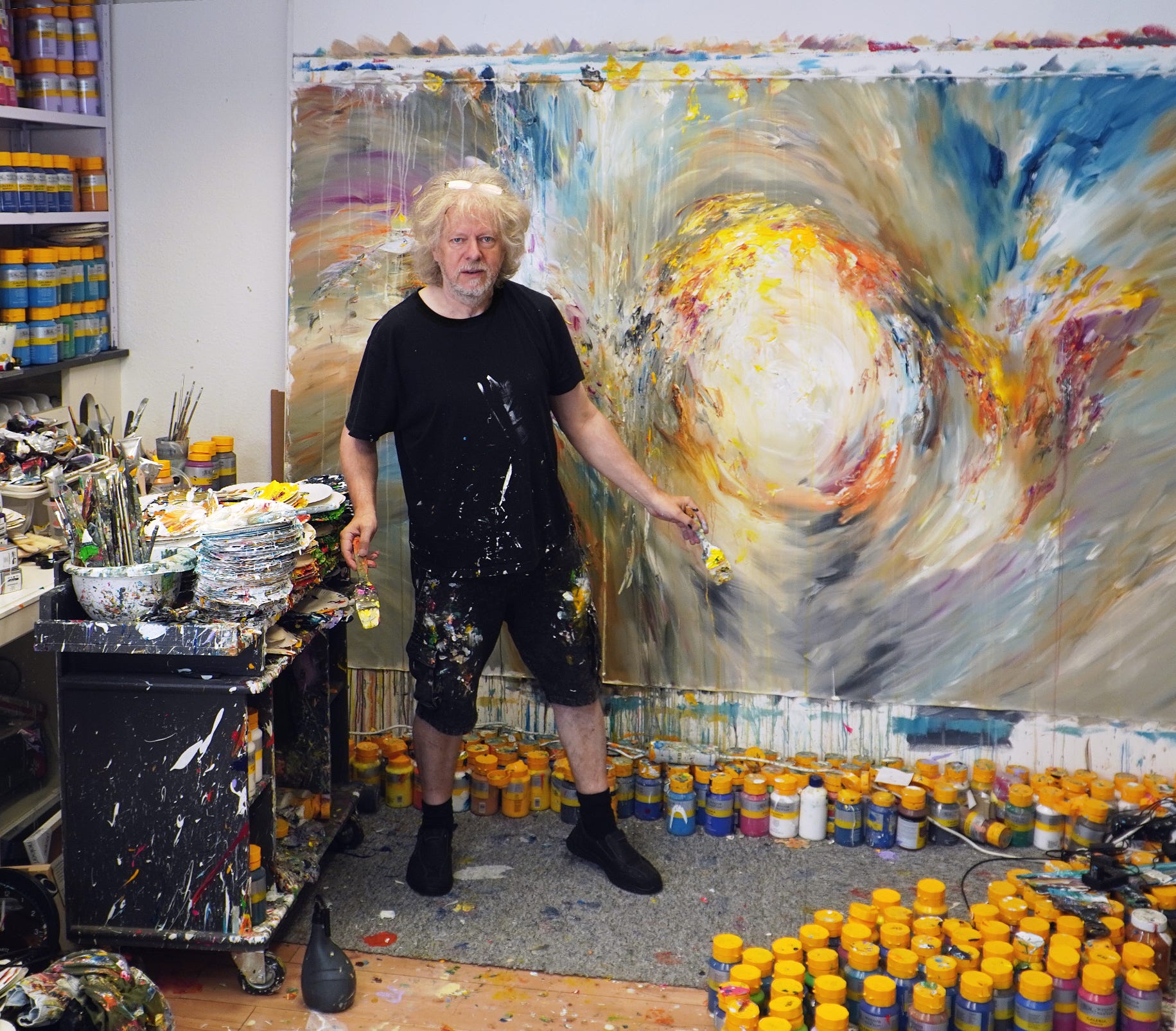 Oversized artworks for sale
Most of the large abstract paintings measure 240 x 150 cm (some are even larger). This big size is the premier class: XXXL. Such a extra large picture has a correspondingly large impact and enriches the space where it hangs: whether in your private living room as well as in a conference room or foyer. Abstract wall art.
Large selection of large contemporary artworks
More than 45 oversized paintings are ready to be seen and enjoyed. Most are positive, power- and colorful, some have less hues and a more quiet appearance. Most are abstract, some are semi abstract... - You can find out what suits you and what you like.
I love to paint

Here you can find some information about my person, my passion, my studio and where to find me in the world of art. My art is my passion and motivates me to paint nearly every day. It allows me to grow with the many new challenges it presents and thus enables me to achieve new goals.
Abstract painting
Abstract paintings are characterized by the representation of the non-objective. In an abstract painting, feelings, moods and thoughts are expressed in the artwork through non-representational colors and shapes. Anyone who buys an abstract painting has usually found a work of art for themselves that invites them to look at it again and again and triggers corresponding feelings, thoughts and moods. Abstract artwork speaks to the emotional side, possibly supplemented by the rational side. Abstract artwork is always unique, and therefore the connection to each abstract painting is different. Finding the abstract painting that suits your personality can make you happy.
For the Opening: Release Now XXXL 1
SPECIAL OFFER
Release Now XXXL is one of my own favourites:
Size: 240 x 150 cm | Material: acrylic on canvas
The price normally: 12.250 USD
Opeming Price: 9.999 USD
I would like to celebrate my new website going online by offering a special opening price :-)
Latest painting from my Studio: Awesome Dreamworld XXXL 1
published 2023 / 10 / 18
Size: 240 x 150 cm | Material: acrylic on canvas
The price : 10.990 USD


On this canvas the paint has just dried...I painted it to say goodbye to summer and hello to autumn. More details of the artwork and further informations:
What else I can offer: uncomplicated, secure processing
* signed certificate of authenticity and an invoice
* 14 days right of return
* over 90% of the paintings are delivered after 14 days
* international shipping experience in more than 30 countries in the world
Your message is welcome:
Do you have a question, a comment, an offer or maybe something else?